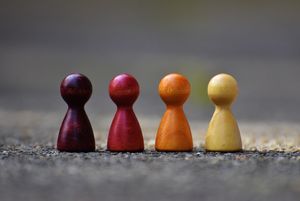 The principle that defines Chase Meaning, that meaning is found where what is truly good and what makes an individual unique intersect, is interesting as an abstract idea but it is only useful if applied in the realm of the practical. That means we must understand what is good, both in general and about ourselves, and use that understanding to benefit our families, friendships, and workplaces. The Chase Meaning principle works best at the community level. 
This is because, while true goodness is universal and permanent, the individual is located in a particular time and place. His pursuit of moral understanding should not be to transcend his environment but to serve as a conduit of that goodness to the real people around him.  
A healthy community addresses both of these requirements for meaningful living: understanding of what is good and individual contribution to actualize the good in real life. These are not two separate activities but are concurrent and mutually supportive. Intellectual ascendance is not enough. To fully participate in what it means to be human is to contribute our unique talents and interests to benefit the community. 
This kind of community is not only useful to the cultivation of the individual. It is necessary. Witherspoon asserts that the most telling difference between humans and other animals is "that the individual is more helpless as well as the kind more noble; and therefore the intercourse of society and mutual assistance is absolutely necessary to his improvement and perfection" (pg. 227-8). For animals, mere survival is enough. But not so for the human race, which, "with all its defects, is certainly the noblest and most valuable in this lower world, and therefore the most worthy of cultivation" (p. 227). 
A community's first responsibility is to facilitate understanding of what is good, especially among the young. C. S. Lewis observes, "Until quite modern times all teachers and even all men believed the universe to be such that certain emotional reactions on our part could be either congruous or incongruous to it—believed, in fact, that objects did not merely receive, but could merit, our approval or disapproval, our reverence or our contempt" (pg. 6). He argues that children must be trained at an emotional/sentimental level to recognize good from evil and right from wrong even before he can grasp its rational basis. 
But if the community stops here then that understanding will wither before it has even taken root. It is not enough for humans to understand. We must also be allowed to act on that understanding. If I learn everything there is to know about music theory but never sing a note or strum a chord then that understanding goes to waste. I must use that knowledge for its inherent purpose, which is to create. This is the second responsibility of the community: to provide those opportunities for action and creation. 
One of the most telling qualities of any community, be it a company, a church, or any other organization, is how well it facilitates opportunities for these unique, individual contributions. Some of these communities centralize everything, creating an "in-group" of a few select producers and creators and treating everyone else in the community as consumers with nothing of real value to offer. While what they are offering may be good, the lack of opportunity for individuals to take part nullifies much of the positive effects of living in community. 
I am sure all of us can recall being involved in such a community and looking back on the experience can see that without opportunities to contribute meaningfully leaving such a community is inevitable. We have no sense of ownership in a place where there is no room to contribute, so leaving such a place is easy. To consume even good things is not enough to live meaningfully.  
But those communities that take individual talents and interests seriously and create space for those to flourish are those that make meaningfully living possible. They make possible the intersection of what is good universally and individually. These are the communities that one never wants to leave.