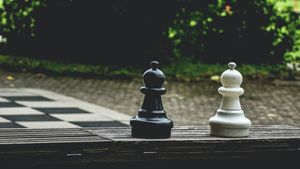 This week I was involved in a group conversation regarding the nature of organizational leadership. I used the term "philosophy" and another participant, an Army chaplain, disagreed with my use of the word. Since the point was ancillary to the overall discussion we moved past it without resolving the matter, which was disappointing to me because I felt we were misunderstanding each other more than disagreeing on substance. 
Misunderstandings of this kind nag at me, so after the conversation was over I found myself replaying it in my head, looking for gaps in my logic. As I was doing so, the chaplain approached me and acknowledged the fact that he may have misunderstood what I said. He wanted to recognize this fact and give me the chance to explain my thinking. After talking it through we realized that we agreed on the central point. It only required defining a few of my terms a little more fully to realize this. 
This was my first one-on-one interaction with this chaplain and, left to my own devices, I probably would have let the misunderstanding stand and not approached him about it. But the fact that he took the initiative to pull me aside and let me fully explain myself was more instructive to me than the actual point being discussed. He sensed that a misunderstanding had occurred and respected me enough to let me fully express myself. Even if it hadn't resulted in agreement on the point in question, his choosing to make the effort to understand me would have been no less valuable. 
The chaplain's actions illustrate the difference between an argument for the sake of winning and a debate for the sake of understanding. He wasn't trying to score intellectual points, but to understand what I was saying and why. I was relieved at the opportunity to fully explain myself, but even more than that I felt respected as a thinking person. 
That I experienced both of these feelings is no surprise because of the nature of understanding. We often hear about the "clash of wills" or "affection for one another." These involve multiple people interacting using one of what Witherspoon calls the "faculties of the mind…the understanding, the will, and the affections" (pg. 10). So, a clash of wills or affection for one another is the interplay of one person's mental faculties and someone else's. What I experienced with the chaplain was the interplay of our powers not of will or affection, but of understanding. 
The problem with understanding is it has "truth for its object, the discovering things as they really are in themselves, and in their relations one to another" (pg. 10). We are often hesitant to pursue mutual understanding because of the vulnerability and honesty it requires of us. We fear that to be understood would be to be found out as a fraud, so we would rather entrench ourselves in our assumptions. We fear learning that we are wrong. 
But a healthy soul values truth above comfort, even ugly truths about itself. The reason is that a healthy soul hungers to be and know what is good, and "truth naturally and necessarily promotes goodness" (pg. 11). A deep and meaningful happiness, surpassing what fleeting pleasures can offer, is only possible in this realm of goodness. 
For the chaplain to go out of his way to achieve mutual understanding was more than ironing out a disagreement. It was to intentionally join me in the quest for truth that opens the door to goodness, even though it may temporarily be at the expense of our comfort. May we also learn to prioritize understanding so that all we interact with may do the same.