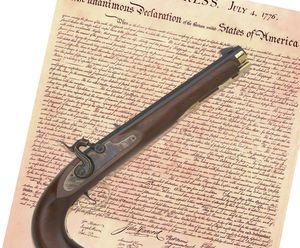 "Duty" is a word that, for many, elicits feelings of obligation and restriction. It conjures images of joyless servitude and seems to threaten individuality. But duty in its purest sense not only provides direction and purpose. It also unlocks our potential to live meaningfully and to express our individuality and humanity to the fullest.  
This truest and highest kind of duty is grounded not in societal expectations or man-made systems, but in "the nature of man. That is to say, if we can discover how his Maker formed him, or for what he intended him, that certainly is what it ought to be" (pg. 4). This kind of duty springs directly from the soul of man. It is in discovering and pursuing the purposes for which we were created that we fully embrace what it means to be human and, in so doing, fulfill our highest duty. 
To do one's duty is both the most meaningful way to live and the most gratifying, even though it often involves self-sacrifice, discomfort, and even suffering. John Witherspoon notices that "the beauty and sweetness of virtuous action arises" from the fact "that it is a compliance with duty…" (pg. 21-2). He asks, "Why is it more pleasant to do a just or charitable action than to satisfy my palate with delightful meat, or to walk in a beautiful garden, or read an exquisite poem? only because I feel myself under an obligation to do it, as a thing useful and important in itself. It is not duty because pleasing, but pleasing because duty" (pg. 22). 
Duty that springs from the soul does not only define our relationship to our Creator and other people but also ourselves. James McCosh, an intellectual and institutional successor to Witherspoon, explains, "Self-cultivation is a special duty. So far as God allows, we are to improve every faculty which God has given. If there be any special gift which He has bestowed--say of philosophy, or poetry, or science; of business, or calculation, or discovery in travelling--we must reckon that as a call on the part of God specially to engage in it" (pg. 49-50).  
This sense of duty drove the Continental Congress in 1776 to declare independence from the British. They did not do so frivolously or out of purely utilitarian self-interest. They did it because they felt they were unable to simultaneously maintain their allegiance to the crown and discharge their higher soul-level duty to themselves, their neighbors, and their Creator. 
In the preceding years, they made a considerate effort to resolve the issue by peaceful means, but the British government backed them into a corner. They were left with only two options. They could surrender their freedom to pursue their higher duty and, in doing so, settle for a less meaningful existence. Or they could fight for the freedom to follow the dictates of conscience, both as a nation and as individuals. 
They saw the latter choice as not only undesirable but also objectively wrong. For individuals to be truly free to pursue their duty they required security of life, liberty, and property (including intellectual and intangible property, such as ideas and convictions). The crown not only failed to secure these, but it was actively constraining them. The Americans decided they had no choice but to secure these rights themselves. 
John Witherspoon was one of these men. He was a delegate and signer of the Declaration of Independence. He was also indicative of and influential on the thinking of the leading men of his generation. His political involvement came after his work as a clergyman and president of the College of New Jersey, now known as Princeton. In these roles, he educated ministers, statesmen, and commanders of American forces. 
Witherspoon's view of duty as the highest and most gratifying of callings was shared by his contemporaries, as may be seen in the document itself. The Congress affirmed that when a government threatens the freedom of a people to discharge their higher duty and "evinces a design to reduce them under absolute Despotism, it is their right, it is their duty, to throw off such Government, and to provide new Guards for their future security."  
These men were motivated by what McCosh refers to as "supreme among the other moving powers": conscience (pg. 222). Witherspoon defines it as "the law which our Maker has written upon our hearts, and both intimates and enforces duty, previous to all reasoning" (pg. 18). It is hardwired into the soul of every person and it moves us to fulfill our highest calling. 
But the fact that we come pre-packaged with a conscience is no license for moral and intellectual laziness. Witherspoon advises us to "take the rule of duty from conscience enlightened by reason, experience, and every way by which we can be supposed to learn the will of our Maker, and his intention in creating us such as we are" (pg. 30). The men of 1776 were not only interested in intuiting what was good but in learning through reason and experience to better understand and do what they were created for. This led to heated debates and sharp disagreements in the years that followed but, generally speaking, protecting the freedom of individuals to do their duty as best they understood it was the reason behind the actions they took and the policies they instituted. 
As we take the time to appreciate the legacy these men left to us, we should remember that the best thing we can do for our country, that which is "productive of the greatest good" (pg. 30), is to discover, understand, and pursue the highest of duties, manifested in the nature of man and his created purpose, driven and guided by conscience, and informed by reason and experience. That is our inheritance from the heroes of 1776 and why they signed that document on the 4th of July. It is an example worth emulating.